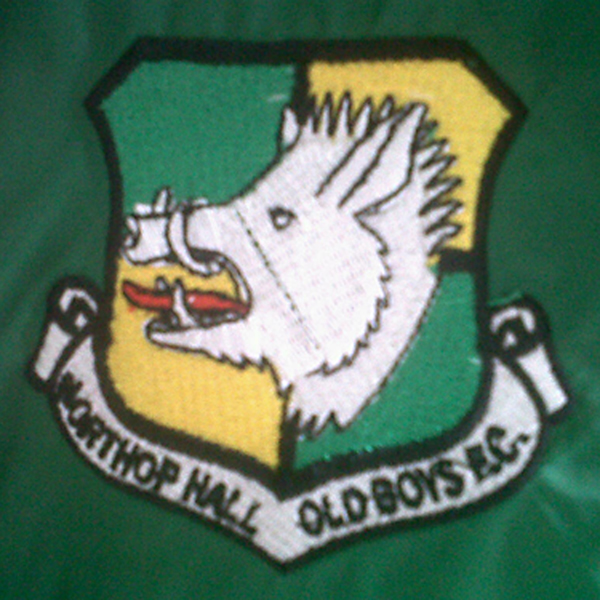 ........ Sponsored By

........ Follow us on

Welcome to the web pages of Northop Hall Old Boys (over-35's veterans) Football Club, lovers of the beautiful game who put their ageing bodies on the line each week to satisfy that desire (and in a vain attempt to keep middle-age spread at bay!)
NOTE TO OPPONENTS & POTENTIAL OPPONENTS:- We are NOT interested in playing against under-35's in regular season. Please don't even think about fielding "youngsters" against us !! Click here to view the 2016-17 fixture list
We have a brand new website thanks to Mark 'Sparky' Ray. Click image below to go to it.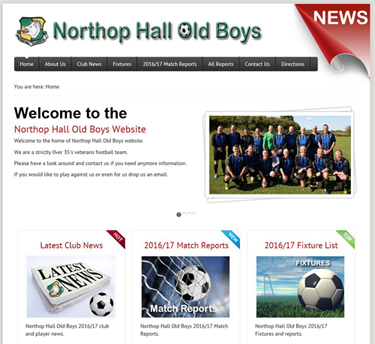 There will be a short period of adjustment when this site will run alongside the new one, but match reports and club news will all be on the new one from now on.

*** LATEST NEWS *** LATEST NEWS *** LATEST NEWS ***

AUGUST 2016
Old Boys ship five to Halkyn (now Hawarden) Vets
Season opener scuppered by missing persons
Charity fund rising as inter-club game raises more money

JULY 2016
Fundraising for Ronald Mcdonald House - charity match August 13th
It's a girl for Dan & Becky
Damo steps into the Chair + other news from AGM
"GT's Wepre" announced as new club sponsor

***************************************************************************************

OLD BOYS SHIP FIVE TO HALKYN (NOW HAWARDEN) VETS

The season finally kicked off for real with a home game against Halkyn Vets, now masquerading as Hawarden Veterans. With a new sponsor, a new kit and a couple of new players hopes were high for the season. However, after going two goals down in the first 15 minutes, it was a constant struggle with the Old Boys carrying little threat to the visitors goal, eventually going down five goals to one. Darren Molyneux got the consolation goal. Click here for a brief match report.

The new kit has been supplied by new sponsor GT's Bar and Grill, Wepre, and had it's first airing for this game. The performance might have been below par but at least the turn-out was smart!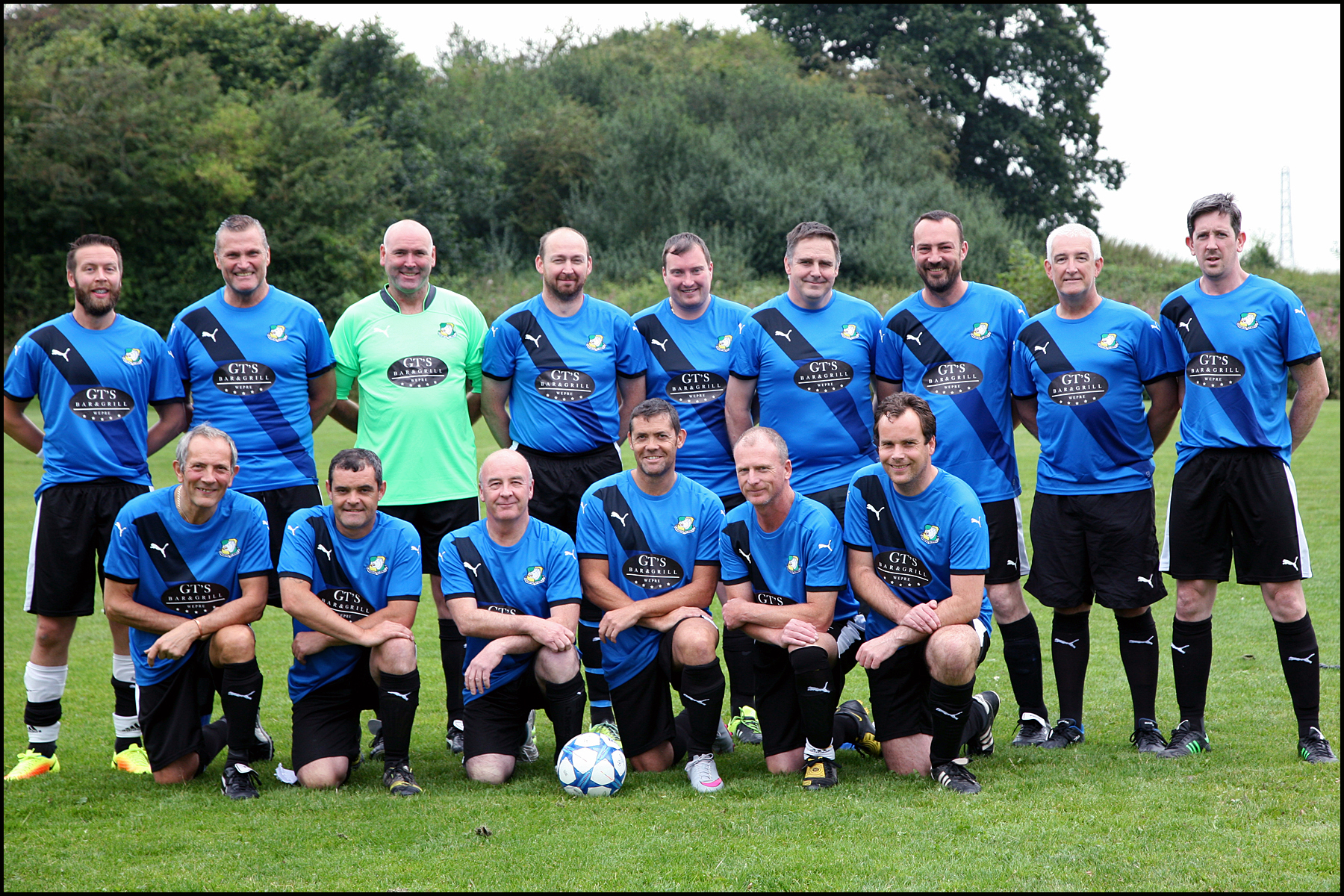 ***************************************************************************************
SEASON OPENER SCUPPERED BY MISSING PERSONS
The season opener at Frodsham was unceremoniously cancelled when only eight players were able to make the trip. The decision to open the season in August will have to be reviewed for future, despite it coinciding with the start of the Premier League season, many of the squad being still away or otherwise unavailable. The first home game is Saturday August 27th against Halkyn Veterans, now the MK Dons of the local vets football scene and refranchised this season as Hawarden Veterans (2:30 p.m. k.o. at The Pavilion). It's a bank holiday weekend (which may not help availability), but the hope is that it will go ahead and that the brand new kit (sponsored by GT's Bar and Grill Wepre) will be unveiled.
***************************************************************************************
CHARITY FUND RISING AS INTER-CLUB GAME RAISES MORE MONEY
The inter-club charity game was played as a pre-season game between members of the over-35's and over-50's and duly raised around a further £250 for the Ronald McDonald House charity that we are supporting. This is being topped up by "Just Giving" donations which has brought the total to around £450 at time of writing. Many thanks to everyone who has supported us so far and for your generosity. Further events are planned for the autumn before the money is officially handed over at the end of the year. A reminder that you can still donate by clicking here.
***************************************************************************************
FUNDRAISING FOR RONALD McDONALD HOUSE - CHARITY MATCH AUGUST 13th
The football club has made a lot of money for charity over the years and this year, as many of you know, we have begun a fundraising campaign at the request of Craig Jones to raise money for Ronald McDonald House, a charity that helped him & Liz when their twins were born prematurely and faced six months of care before finally being allowed home very recently. Their website states that "Ronald McDonald Houses enable families to maintain a degree of normal life while their child is undergoing medical treatment in partnered specialist children's hospitals across the UK."
This is what Liz has said about them. "Without the Ronald McDonald House at Arrowe Park our life would have been even more difficult than it already was. This fantastic facility gave us a chance to maintain a little normality in a situation which was far from normal. It also allowed Matty and Cari to stay with us and give us a chance to try and be a family in the toughest of times. We could never have envisaged how difficult our journey would become and being able to stay so close to our tiny girls was a life saver. It is truly a remarkable place."
We started the ball rolling at the Presentation Night and are following that up with an inter-club match at Northop Hall on Saturday August 13th, kick off 2:30 p.m., involving both the over-35's and over-50's players. In the meantime, a reminder that we have also set up a "Just Giving" page for taking cash which has already attracted some kind donations. You can find it by clicking here.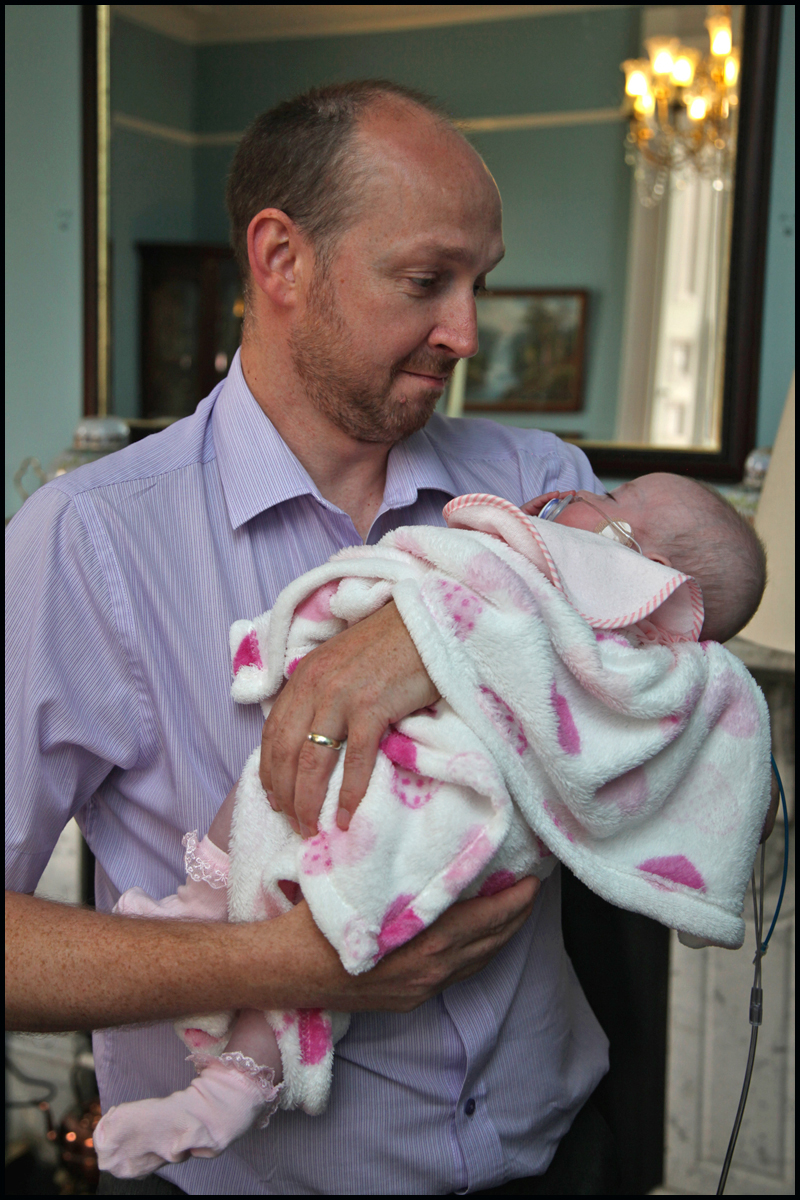 ***************************************************************************************
Many congratulations to Dan Hicks and his wife Becky on the birth of their third child, a baby girl they have called Sophie. Born on July 17th and weighing in at 7 lbs and 3 oz, all are doing well. Dan becomes the latest of the over-35's to show their virility off the field and joins a long line of new fathers since the Old Boys started 8 years ago!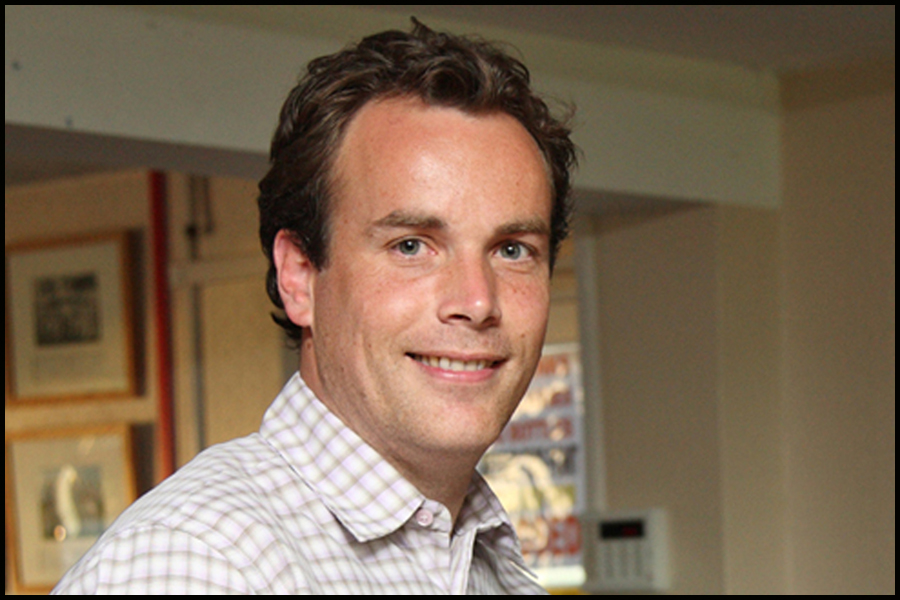 ***************************************************************************************
DAMO STEPS INTO THE CHAIR + OTHER NEWS FROM THE A.G.M.
The 2016 Annual General Meeting was held on Tuesday July 5th at Northop Hall Cricket Club. Following the "disappearance" of previous chairman Phil Elder, a new chair was required going forward and Damian Molyneux (pictured below) volunteered for the role with former manager Martin Richardson (also pictured below) as his Vice-Chairman. Dan Hicks will be putting his accountancy head to the club's finances during the forthcoming season as club treasurer, with Dave Henrys to continue as Club Secretary. Mel Barnes was reappointed manager of the over-35's for 2016/17 with the assistance of Darren Molyneux and Pete Dessington, while Dave Henrys has stepped down from managing the over-50's "supervets" and Steve Buckley will take over, assisted by Craig Starkey. The plan for the over-50's is to try and have one game arranged most months through the season.
With the advent of a new sponsor (see previous post) a new kit is to be provided. It will NOT be issued per player as last season. Instead we will be reverting back to having it professionally washed after every game. There will be no annual subscriptions for the coming season thanks to the generosity of our new sponsors, but individual match fees will remain at £5.00 per game. Those wishing to pay up front for the season can make arrangements with Dan to pay an agreed one-off payment of £70.00 at the start of the season. We will also be holding a fund-raising Race Night in the autumn to raise further funds.
Fees for the 7-a-side at Connahs Quay High School will remain at £3.00 per night (£5 each when the full pitch is employed for a full 11-a-side game).
Following the huge success of three successive tours to Dublin, it was agreed to look early in the season at going further afield in 2017. A tour committee of Damian Molyneux, Dan Hicks, Dave Henrys and Darren Molyneux will be meeting soon to get some suggestions together so the event can start to be planned early.
The 2016/17 season kicks off on Saturday August 20th with a visit to Frodsham. However, the week before there will be a charity match as a prelude to the new season to raise money for Ronald McDonald House that we are supporting this year. The game will be the Old Boys over-35's v. the over-50's Supervets (+ guests!).
Finally Declan Hickey (in his absence) was thanked for continuing to give freely of his time to referee for us again last season. Although it proved a lively meeting, the attendance of 18 was far and away the best we have ever had, and that was with a few notable unavoidable absentees as well. This interest in the club gives lots of reasons for optimism as we press forward.
***************************************************************************************
"GT's WEPRE" ANNOUNCED AS NEW CLUB SPONSOR
Northop Hall Old Boys FC are delighted to announce new sponsors for 2016/17. The 2016 AGM agreed to take up the GT's Bar & Grill (formerly the Wepre Inn / Palamino) offer of funding in return for using their facility after games and for meetings and functions in the foreseeable future. Although sad to cut ties with the cricket club, and particularly with Jane Holden who has kept us well fed over the past few years, the offer which will see a new kit and a contribution towards pitch fees was ultimately too good to turn down. We look forward to a fruitful new partnership (click on one of the images below to go to their website www.gtsbargrill.co.uk)
***************************************************************************************