Welcome to the web pages of Northop Hall Old Boys (over-35's veterans) Football Club, lovers of the beautiful game who put their ageing bodies on the line each week to satisfy that desire (and in a vain attempt to keep middle-age spread at bay!)
NOTE TO OPPONENTS & POTENTIAL OPPONENTS:- We are NOT interested in playing against under-35's in regular season. Please don't even think about fielding "youngsters" against us !! Click here to view the 2014-15 fixture list
*** LATEST NEWS *** LATEST NEWS *** LATEST NEWS ***
AUGUST 2014
Nomads progress to Charity final after feisty affair
Congratulations to ...
It's a local derby semi final for the Charity Shield
JULY 2014
AGM - Phil is the new Elder statesman and Mel steps up
Annual General Meeting 15-07-2014
***************************************************************************************
NOMADS PROGRESS TO CHARITY FINAL AFTER FEISTY AFFAIR
Northop Hall Nomads hung on to claim the first bragging rights of the season after a 3-2 derby win over the Old Boys in the 'In Vogue' Northop Hall Veterans Charity Shield semi-final. The game was marred by some niggly ongoing feuds that eventually saw a player from each side being sent off. Darren Brierley and debutant Nigel Reid were on target for the Old Boys who also scored two of the Nomads goals for them. Click here for match report.
Rhewl beat Halkyn on penalties in the other game after a 2-2 draw on 90 minutes. Next week will see the Old Boys play Halkyn to decide 3rd place (2:00 pm k.o.) with Northop Hall Nomads v Rhewl in the final (2:30 k.o.), both games again taking place at Northop Hall Pavilion followed by presentations at The Boars Head on Village Road.
***************************************************************************************
Many congratulations to Darren Gatehouse and partner Rhian on the birth of baby daughter Lily Rae. Also, Craig Mac has become a married man, congratulations to him and Kate too.
***************************************************************************************
IT'S A LOCAL DERBY SEMI FINAL FOR THE CHARITY SHIELD
The draw for this season's curtain opener the traditional Charity Shield has thrown together the two Northop Hall sides, with the Old Boys out of the hat first as the home team. Both semi final games will take place at the Northop Hall Pavilion on Saturday August 30th, Halkyn v Rhewl kicks off at 2:00 p.m., the Old Boys v Nomads game at 2:30 p.m. The final and 3rd/4th place game will be the following Saturday, also at Northop Hall.
***************************************************************************************
AGM - PHIL IS THE NEW ELDER STATESMAN AND MEL STEPS UP
Phil Elder was voted in as the Club's new Chairman at this year's Annual General Meeting, with Mel Barnes appointed to the new role of Vice-Chairman. Phil and Mel have both had a long association with vets football in Northop Hall, previously members of the Veterans team that existed until 2008 and both founder members of the Old Boys when it succeeded the Veterans that year.
Mel has also been made Assistant Manager to Dave Henrys, who is likely to miss a few more games through work commitments next season. Darren Brierley who steered the club to its first Sealand Cup final this year will be tasked with running the team again next April & May on the same basis.
Other decisions taken include a rise in the annual subscription from £12 to £15 per player for the coming season, which will help fund a new kit for the season and new training jackets (match fees and 6-a-side fees will remain at £3 each). Eifion Jones has kindly agreed to continue sponsorship through Green Thumb towards the kit costs. Following the successful tour to Dublin last May it was agreed to return next May if the tournament is run again and we receive an invite.
Fixtures are filling up nicely and will be supplemented by several midweek "oldies" games during the season with Rossett, Tattenhall and St Marys all expressing interest in games. Wednesday 20th and 27th of August are both earmarked for pre-season friendlies (details in due course).
Finally Declan Hickey was thanked for continuing refereeing for us and one the first duties for new Chairman Phil Elder was to present a golf voucher to Declan as a token of appreciation (pictured below)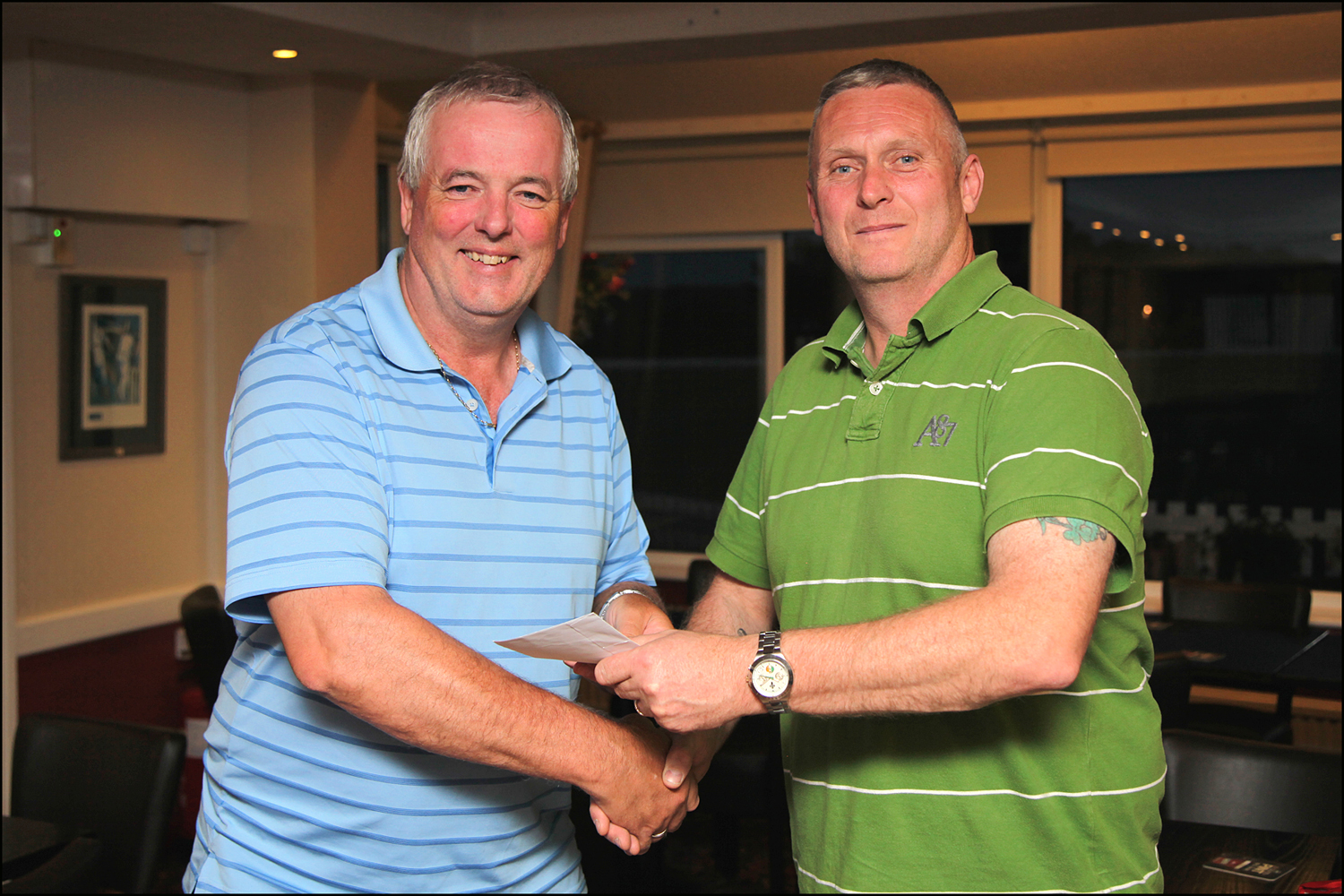 ***************************************************************************************
ANNUAL GENERAL MEETING - 15/07/2014
The Club's 2014 Annual General Meeting will be held on Tuesday July 15th at Northop Hall Cricket Club starting at 7:45 p.m. Nominations in advance are welcomed for the positions of Chairman, Secretary & Treasurer (especially Chairman as Phil Southern is stepping down after 6 years in the hotseat). The positions of manager and assistant manager will also be reviewed by the Committee at the meeting. The full agenda can be found by clicking here. All are welcome to attend, just confirm with Dave Henrys that you will be attending as the cricket club need numbers.
***************************************************************************************