Welcome to the web pages of Northop Hall Old Boys (over-35's veterans) Football Club, lovers of the beautiful game who put their ageing bodies on the line each week to satisfy that desire (and in a vain attempt to keep middle-age spread at bay!)
NOTE TO OPPONENTS & POTENTIAL OPPONENTS:- We are NOT interested in playing against under-35's in regular season. Please don't even think about fielding "youngsters" against us !! Click here to view the 2015-16 fixture list
*** LATEST NEWS *** LATEST NEWS *** LATEST NEWS ***
JULY 2015
Changes afoot from Annual General Meeting
Mel Barnes is the new manager of Northop Hall Old Boys FC
***************************************************************************************
CHANGES AFOOT FROM ANNUAL GENERAL MEETING
The 2015 Annual General Meeting was held on Tuesday June 30th at Northop Hall Cricket Club. The following decisions were made, many at the direction of the new management regime but also being mindful that a reduction in the number of players making themselves available for matches last season had significantly reduced and had a knock-on effect on the club's finances (further details will be posted online in due course).
Phil Elder was reappointed as Chairman for a second term, with Dave Henrys to continue in an administrative role as Secretary/Treasurer. Mel Barnes was appointed manager of the club for 2015/16 (see below).
A majority vote decided on a major change to the financing arrangements for season fees/match fees/kit and laundry. Annual subscriptions for the coming season will be set at £30.00 which will cover pitch fees and the provision of a new kit (shirt, shorts and socks) which each player who joins up will be allocated and will be responsibile for keeping laundered and provided for wear on match-days. The annual subs will have to be paid (or monthly payments set up - see below) before a player receives any kit. (This does not apply to the "Supervets" team who will still have kit provided on match day.)
Individual match fees will rise to £5.00 per game for the new season. However, the committee decided to introduce a discount incentive for anyone who pays for the season in total up front at the start of the season (this will be a one-off payment of £100.00 including annual subs) and for anyone who signs up to pay a fixed monthly sum over the course of the season (which will be set at £10.00 per month inc. annual subs - £120.00 per annum). There will be no refund if a player misses any games. The changes are intended to make the collection of money every week easier and hopefully guarantee a larger income over the season.
Fees for the 6-a-side at Flint will remain at £3.00 while that facility continues to be used. However, the club has declared its intention to try and move to the new 4G pitches at Connahs Quay High School when they are built.
Following the huge success of the tour to Dublin last month for the Social Soccer international tournament, it was agreed to canvas votes from players at the start of the season for going agin next year if the event is run, thereby allowing more time for fundraising and booking accommodation and travel.
Finally Declan Hickey was again thanked for continuing to referee for us last season and was presented with some golf-themed gifts as a token of appreciation (pictured below receiving them from Phil Elder & Mel Barnes)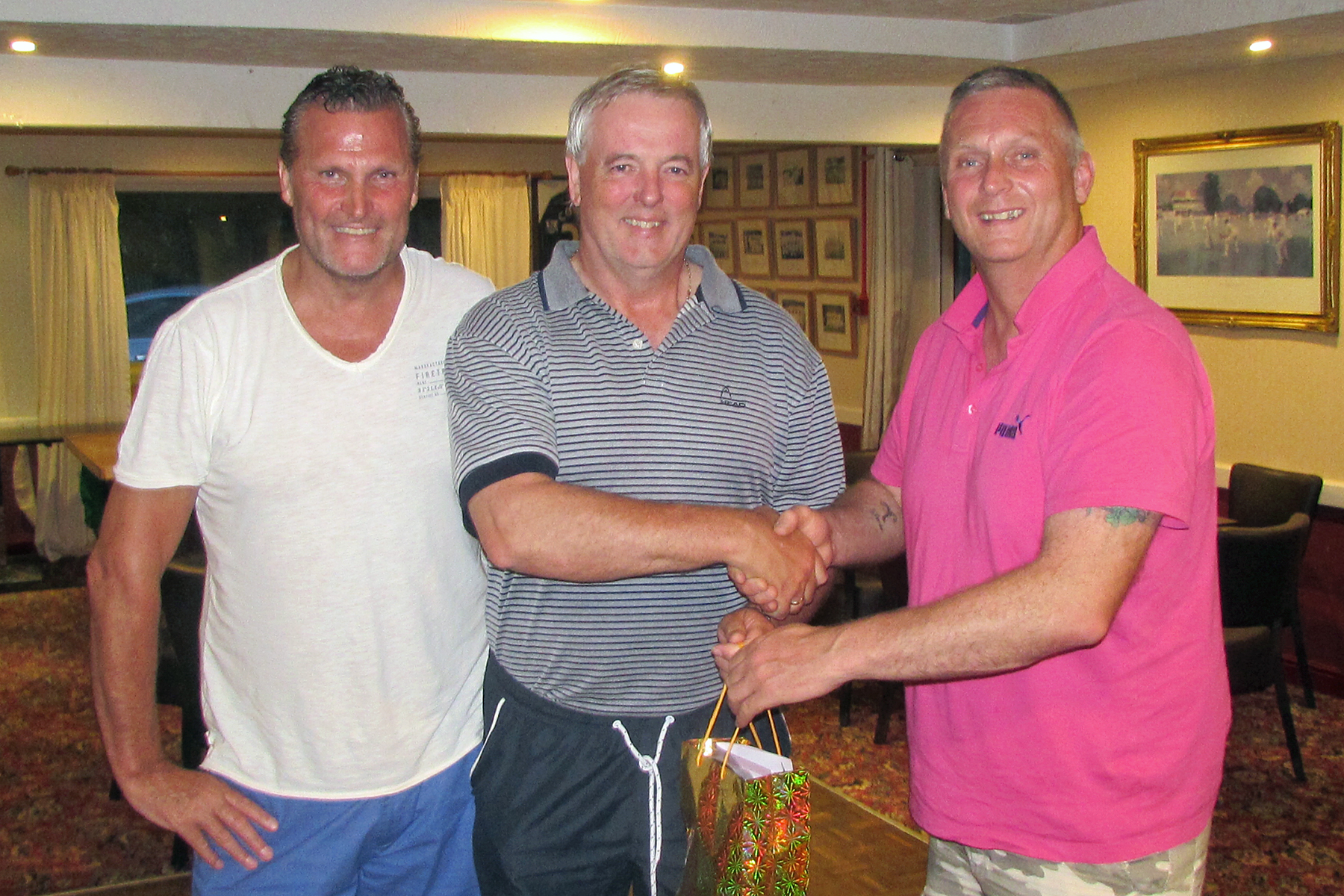 ***************************************************************************************
MEL BARNES IS THE NEW MANAGER OF NORTHOP HALL OLD BOYS FC
The Club's 2015 Annual General Meeting unanimously approved the change of club manager for the coming 2015/16 season following the decision of Dave Henrys to step down after 7 years in charge. Mel Barnes (pictured below), who has been with the veterans side in Northop Hall for more than 15 years and was a founder member of the Old Boys incarnation in 2007, will take over the running of the team, assisted by fellow-stalwarts Darren Molyneux and Pete Dessington. The change was well-known and just waiting to be ratified by the club committee, with Mel having already taken charge of the team in Dublin last month in readiness as well as preparingt next season's fixtures which are now on the website.
Dave, who was thanked again for his previous service, was appointed to the new role of manager of the "Supervets" (currently the over-50's with a year or two discretion), who will be looking for monthly midweek fixtures through the season. Steve Buckley will be his assistant.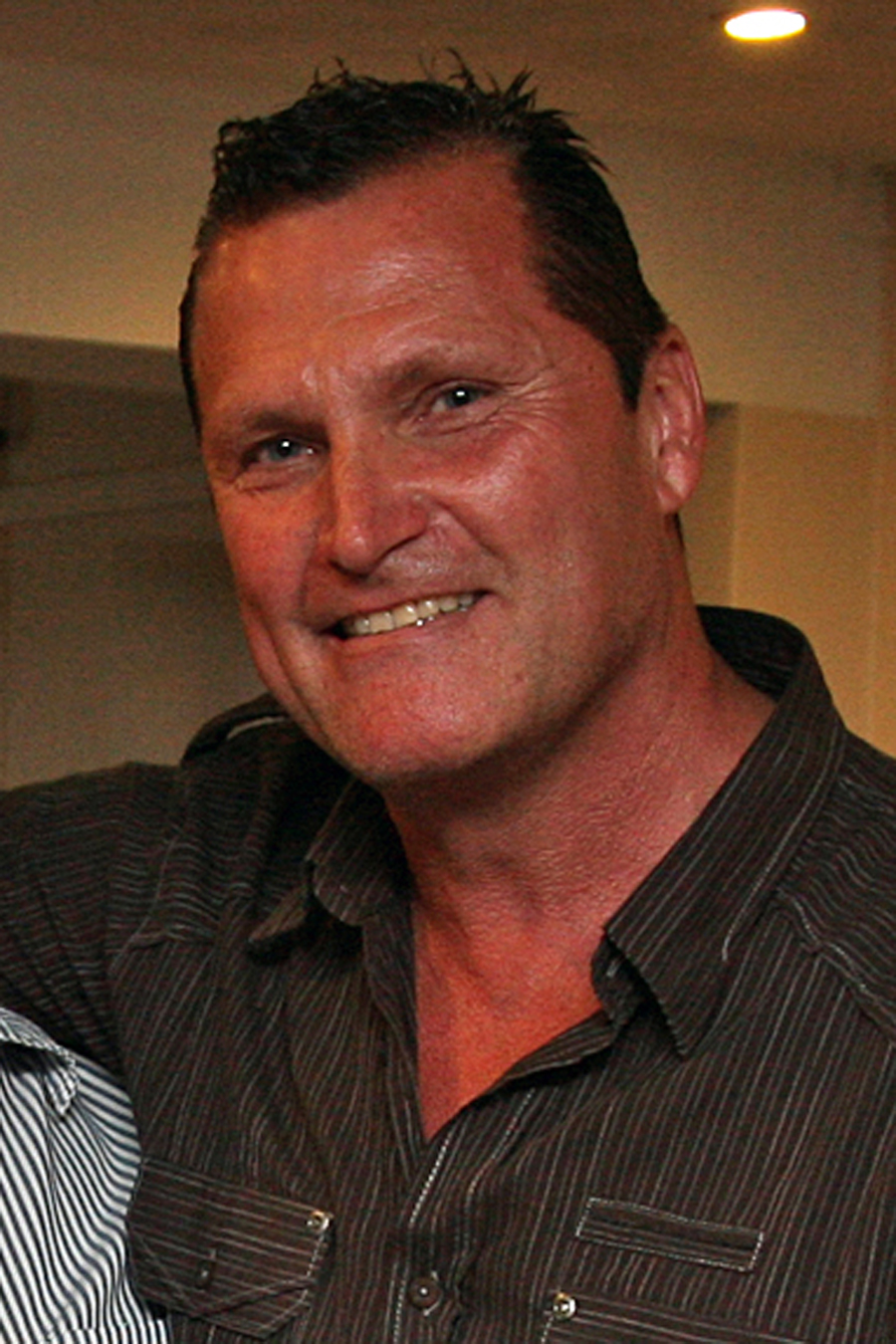 ***************************************************************************************